Road Safety
At Langwith Bassett Junior Academy we are surrounded by fields and open spaces. While this is a lovely environment in which to learn, it does mean the road outside can be very busy and it is very important that everyone in our Academy community plays their part in keeping themselves and others safe.
All pupils at are taught about Road safety as part of our curriculum and with road safety workshops and assemblies.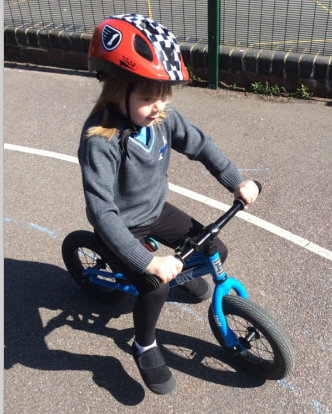 Our Foundations children enjoy learning abut Road safety as part of their continuous provision with the Balance Bikes and the road safety signs and markings in our playground.
Our older children have to opportunity to take party in Bikeablity training and road safety workshops prior to their transition into Y7.
Why is it important to teach children the Green Cross Code?
Crossing the road is a huge part of everyday life, so it's essential that children understand how to cross the road independently. Their safety is paramount, and once they know the steps, the environment will be safer for everyone.
Tip for parents/carers - One of the best ways to help children learn about staying safe is to talk to them when you're out and about.
Be a good role model and follow the rules whenever you're with your children to set an example.
Involve children and ask them to look for safe places to cross. You can also see if they remember each step.
Hold your child's hand when near cars and explain why this is important.
Give children bright colours to wear and outline why this is important.
Talk about different signs and traffic lights.
The Green Cross Code
1. Find the safest place to cross
Look for subways, footbridges, islands, zebra, puffin, pelican or toucan crossings, or somewhere there is a crossing point controlled by a police officer, a school crossing patrol or a traffic warden.
If you can't find any of these, find a point where you can see clearly in all directions and where cars can see you. Avoid crossing between parked cars, on bends or on hills. Find somewhere that drivers will have a clear view of you and make sure there's space for you to reach the pavement on the other side.
2. Stop before you reach the kerb
Keep back from the edge of the road so that you're not too close to cars as they pass. However, make sure you still have a clear view of the cars and give yourself lots of time to look around before crossing.
3. Look and listen for traffic
Make sure you look around in every direction for traffic. Listening carefully will help too, as sometimes you can hear cars before you see them.
4. Let any traffic pass
Look around and listen again. Don't cross the road until there's a safe gap in the traffic and remember that even if cars look a long way away they are likely to be travelling very quickly.
5. Cross the road when it's safe, walking rather than running
As you cross the road, continue to look and listen for traffic. You should always be alert in case there's any traffic you didn't see or cars appear suddenly. Look out for cyclists and motorcyclists as they are harder to spot and can travel between lanes of traffic. Don't cross diagonally.